School Council
School Council Voting 
Everyone cast their vote today for who they wanted to represent them in the School Council. The results will be announced next week. Well done that took part and prepared speeches to read out during assembly.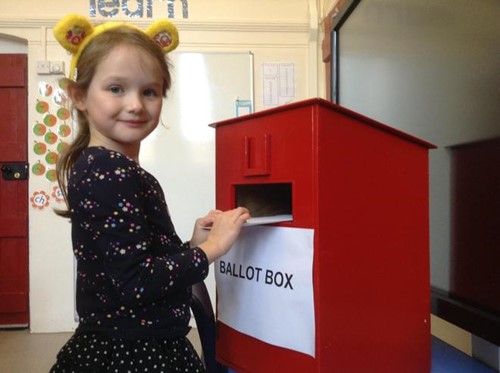 Telford Mayor presents the 2018 Newly elected School Council Members with their certificates.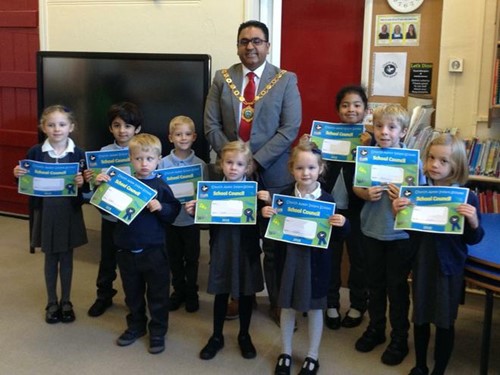 School Council
At Church Aston Infant School we value the opinions of the children.
The School Council gives them a voice.
We believe that:
- Pupils have a right to be listened to.
- It is important that pupils are consulted when appropriate.
- A democratically elected School Council provides a structured opportunity for active pupil participation in decision-making within the school.
The School Council aims:
- To empower pupils to participate in their school community as active citizens.
- To promote a sense of responsibility and ownership of the school community.
- To give the children a 'voice' through the School Council representatives.
- To encourage children to care for school property by involving them in decision making processes.
- To foster and encourage positive and responsible attitudes and behaviour.
The School Council is made up of children from Reception to Year 2 and meets regularly
to discuss issues and plan school events and resources with Mrs Cusack.
Many of the suggestions made by the School Council are acted upon and help to make our school a happy and pleasant place to work and play.
School Council Meeting Minutes - Friday 20th April 2018
1. Suggestion raised for items to purchase for school are;
obstacle course

mini golf course

tables and chairs 

first aid box in P.E Shed.
Actions
None.
School Council Meeting Minutes - Friday 9th March 2018
1. Unsafe areas of school discussed. Potential hazards are; children on scooters without cones, shaking the fence, children going around the play shed, children jumping and getting stuck in crates.
2. Suggestions made about house points.
3. No suggestions raised for any new equipment to purchase.
Actions
1. Remind children in assembly about scooting within the coned off areas and not to go behind the sheds.
2. Remove any unsafe crates from the playground.
School Council Meeting Minutes - Friday 5th January 2018
1. Introductions made.
2. Safe and Secure Crew role discussed.
Actions
1. Check the school for any unsafe areas and report back at next meeting.
2. Make suggestions of what the children in school would like to purchase.
Red Nose Day Cake Sale
School Council representatives worked very hard at the cake sale to raise funds for the Red Nose Day appeal raising a fabulous £130.15.
Playground Friends
All the School Council were asked to find out who would like to be a Playground Friend. Almost all the children wanted to do this and so a daily rota has drawn up.
It was lovely to see a group of children working with each other independently to create a beautiful chalk piece of artwork.